Our expertise in design and tooling
Joubert Lacour has an R&D department dedicated to the assistance and study of new products, the economic optimisation of stamped parts and all types of mechanical assembly.
Each customer request is analysed by our design office, which studies all the requirements in order to provide the most suitable technical solutions:
choice of raw materials: aluminium, stainless steel, brass, bronze, steel …
heat treatment: hardening, annealing, etc.
surface treatment: anodising, cataphoresis, zinc plating, etc.
internal procedures
traceability
quality control
packaging…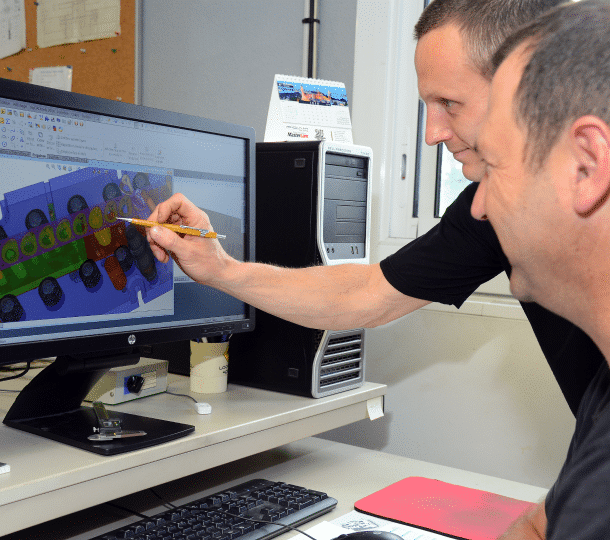 Our equipment
To make your tools, we are equipped with:
SolidWorks CAD/CAM stations
NC and conventional milling machines
Conventional tower
Wire EDM machine
Die sinking EDM machine
Surface grinding machines
3D Measuring machine
Hardening furnace for integrated heat treatment of tools
Joubert Lacour produces all types of tooling: rework, progressive tools, multi-track, Swiss… according to customer constraints and specifications. This total mastery of production allows us to guarantee all tools for life and to be reactive in the maintenance process of the various tools.
Always with the aim of providing high added value parts, we also study and produce all welding assemblies and control templates.
Together we can make all your projects a reality
Our teams are at your disposal for a complete support, from the design to the production of your parts in series. Throughout your project, our design office provides you with personalised advice and responds to all your requests.