Our company
Joubert Lacour is one of the leaders in French stamping. Founded in 1928, the company specialised in the stamping of rosettes (small brass washers that fit under the rivet heads of knife handles).
Located in the cutlery basin of Thiers, Joubert Lacour benefits from an exceptional industrial environment including :
Surface treatment
Heat treatment
Machining
Plastics
Packaging
This economic network stems from the cutlery heritage.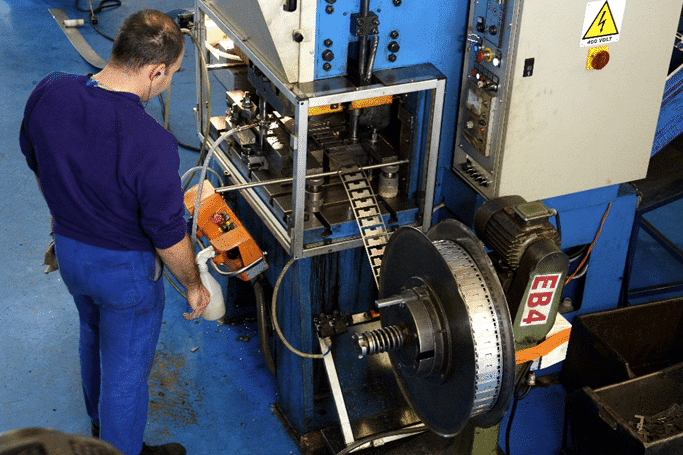 This economic network stems from the cutlery heritage.
This proximity has enabled Joubert Lacour to specialise in the manufacture of high value-added technical parts in a wide range of sectors such as the automotive, sports equipment, arms and industrial products industries. Joubert Lacour develops techniques in the field of aluminium forming (AUDI front axle reinforcement) and colaminated metals (Lithium battery connections).
With its design office, Joubert Lacour designs and manufactures the tooling required by its customers, whatever the type of tooling (progressive tools, Swiss tools …). Joubert Lacour internalizes all the phases of tooling production.
Thanks to its expertise, Joubert Lacour has been able to convince major principals and win its place on international markets, being competitive with certain "low cost" competitors and can pride itself on the resourcing of parts from Asia on French territory.
The knowledge of working with all types of metal has enabled Joubert Lacour to position itself in very specialised niches and to become the number one cutter and stamper for the world leader in mountaineering and caving equipment, and to equip most of the adventure parks. Or to participate in the development of the lithium-ion battery sector working on combinations of co-laminated metals.
History
1928 Creation of the Lacour Company in the Thiers cutlery basin
1992 Start of the technical floor activity
1995 Start of sports equipment manufacturing
1997 Received ISO 9001 certification
1998 Entry into the automotive sector
2001 Expansion of Joubert Lacour with the construction of a new building
2005 Founding of Fibat Entreprise (false floor structure)
2021 Integration of Société Lacour into the Joubert Group